Sewer Repair in North Richland Hills by NCT Plumbing
August 20th 2019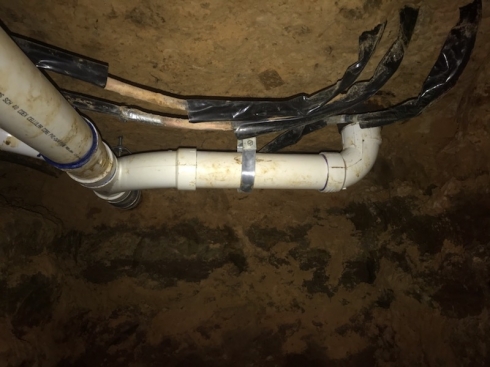 Not too long ago, our team at NCT Plumbing was called by a client looking for a plumber near North Richland Hills to diagnose a drainage issue at their home. After diagnosing the problem and beginning work, our experienced team found more of an issue than they were expecting. However, with great initiative, they were able to repair a frequently clogging toilet and a broken cast iron sewer line – all while causing as few disturbances as possible to the homeowners!

There was drainage issues at this home and we were called out to diagnose the toilet clogging up several times. It was diagnosed as a separation just below the slab. Our team decided that instead of damaging the slab we use a technique to tunnel under the slab. This would enable us to not disturb anything inside the home or the homeowners from their day to day routine.

There are a couple of reasons why we would choose to tunnel under a home for plumbing repairs instead of cutting through the slab. When it's decided to cut through a slab, we have to initially clean out the area where we will be cutting so that we have enough space. Then we have to remove any flooring or coverings. Once we start cutting, we end up making a dusty, dirty, loud mess. Once we're done, we have to replace flooring, clean up the room, and move everything back. This can be a major headache for homeowners – not to mention potentially being expensive when there are nice floor coverings in place. This client chose to have us tunnel from outside the house. As intensive as it may look, compared to the alternative, it often ends up being less expensive and much less of a disturbance to a home.

Let's get back to the job: After the tunnel was complete it was discovered that there was an additional separated or broken cast iron sewer line. The team took some time to repair that line then returned to the original fix. When they were done the job, all plumbing lines causing any issues were replaced with new PVC drain piping. We also back filled the tunnel we had created under this house.

With over 50 years of experience in the Fort Worth and Dallas Texas area, our team knows many effective techniques for plumbing and repairs that make our work more efficient, effective, and convenient. Whether we're tunneling under your home to fix broken pipes or sticking to more conventional methods of repairing plumbing, you can trust that we will solve your home's problem in the most complete way possible.

We encourage you to get to know more about us at NCT Plumbing. We provide membership discounts and specials for individuals who serve our community. Find out the services we offer and give us a call when you need a plumber in Fort Worth and the surrounding area!