My Sewer is Backing up and I Need a Plumber Fast!


If your sewer, shower, toilets, or tub are backing up and you need a plumber in Fort Worth, Texas, then NCT Plumbing is ready to help. Contact Us for help right away! But come back later to check out our Emerald Club Membership and learn about how you can receive priority scheduling and yearly maintenance of all of your home's plumbing.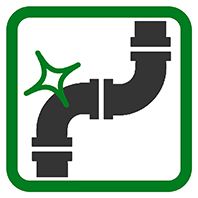 Clogged Toilets, Sinks, Tubs, Showers or Main Drain - We Can Clear It!
We have been clearing sewer and drain clogs in the Fort Worth, Texas area for years. Our drain cleaning specialists have the equipment to get your drains running again in no time. We can also use video inspection equipment to diagnose what's causing the slow drainage or blockage issue and even mark the location. This will be beneficial to come up with a more long-term solution should there be repairs needed.


Main Sewer Backing Up
Depending on the age of your home, there could be many different reasons why it may be having draining issues. We have a "No Clog Today Guarantee" which means we will provide same day service to your home or business to get you back up and running asap!


Toilet Keeps Getting Stopped Up
A lot of times homeowners may think their toilet flushes poorly and this is the reason for it causing drainage problems. We find quite often that the toilet flushes just fine but it's actually a blockage at the toilet flange or within just a few feet of the toilet flange downstream. We can us our video equipment to find out.


Shower Clogged or Tub Not Draining Well
This is normally a quick fix and is covered with minimum service cost to you. Most of the time its hair or hair products causing the issue.
Video Inspection
We provide this priceless service to accurately diagnose what is the source of your drain issues so we can suggest a permanent repair. We can also send you a digital copy of your sewer video inspection upon request. This service can be very beneficial before buying a new home to make sure your drains are looking good.
Bio One Drain Cleaner & Kitchen Drain Grease Remover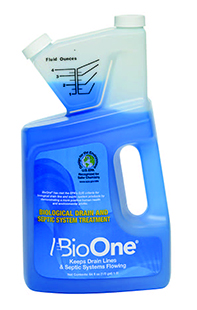 BioOne is made of naturally occurring cultures that can be introduced directly into plumbing and septic systems. The patented BioOne Hungry Bacteria get to work immediately on degradation of fat, oil, grease and organic waste build-up through natural biological digestion. The technology is easy to use, inexpensive and safe. BioOne is a great replacement for products made with caustic chemicals, as it contains none. This state-of-the-art product - BioOne - is marketed exclusively to plumbing, contracting, and service professionals.