What To Expect in a Septic To City Sewer Conversion
February 10th 2020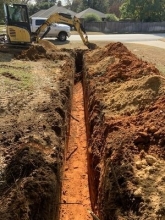 New developments, and new sewer lines, are popping up in the Fort Worth, Texas area as the city grows. This growth and construction, gives owners of older homes with failing septic systems the opportunity to connect to the newer city sewer system. If you are done with the septic tank cleaning, maintenance and repair required for your old septic system, contact NCT Plumbing based in Fort Worth and servicing areas including Dallas and Keller. With over 50 years of plumbing experience, NCT can help you eliminate your septic system and convert it into the Fort Worth city sewer system.

Before beginning your septic system conversion, NCT Plumbing will acquire a permit and conduct an inspection. These steps require a fee that must be paid before your septic system conversion can begin.
What to expect when converting your septic system to a sewer system:

Step 1:

NCT Plumbing will visit your home to provide an estimate as well as expectations of timeline and job specifics. After this, you can schedule a date to begin work, depending on weather conditions.

Step 2:

Your utility lines will be located to identify where all the underground utilities are before commencing digging. At this time, NCT will also schedule for sand to be delivered to backfill the septic tank and install a new plumbing line.

Step 3: Day 1 of conversion

The excavation of your new sewer service is scheduled and the new sewer line trench is dug. Sometimes the sewer is located in the rear of the house and the city sewer tap is in the front. This typically means the new sewer line trenching can be deep by the time it gets to the city tap. There will be a lot of dirt and excavation required. We may also have to remove a fence panel – don't worry, we will put it back in place and fence off any areas as best as we can so your furry friends can roam in the yard as their schedule dictates after we leave each day.

Step 4: Day 2 of conversion

The new sewer service line is installed and we pump your septic tanks dry. This is required before collapsing your tanks.

Step 5: Day 3 of conversion

City inspection and permission to tie your old system to the new system is acquired. At this time you are officially connected to the city sewer.

Step 6: Day 4 of conversion

Your septic tanks are collapsed and we fill them with sand. At this time, we will backfill all plumbing trenches.

All Done! Weather permitting, the process should take 4-5 Days

Some things to consider with a septic system conversion:

Unfortunately, we cannot be responsible for landscaping or irrigation repairs. This includes ground settling. You will need to create a budget that includes having any sprinkler lines and wires repaired after completion. Any grass, trees or bushes will have to be considered if they are near the new sewer system. We cannot guarantee the integrity of your trees after installation although it is rare for a big tree to be affected by the new plumbing trenches.

Contact NCT Plumbing today for a free estimate. You can email or call us any time with questions you have if you are sick of septic tank repair and septic tank cleaning in your Fort Worth or Dallas home.