Sewer Line Replacement of Commercial Building in Fort Worth
March 18th 2020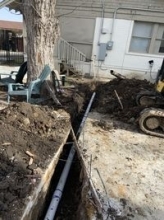 NCT Plumbing has been providing sewer line repair to the Forth Worth and Dallas, Texas areas for over 50 years.
We specialize in commercial and residential plumbing, hot water heater installations, repairs and replacements, sewer and drain cleaning, backflow device testing and more.
In terms of sewer line replacements, there are several different types of replacements ranging from exterior services to below slab tunneling. NCT Plumbing provides the excavation and plumbing service turnkey.
The Fort Worth area has a number of old water and sewer piping systems that are on the verge of being replaced. You may have old clay or cast iron drain lines or old galvanized and copper water lines.
One example of a sewer line replacement NCT Plumbing worked on was what started out as a normal sewer drain clogs lead to a sewer line replacement of old clay piping. After years of deteriorating clay sewer piping and root penetration from trees, it was time for a sewer line replacement. There was so much root penetration through the pipes that the sewer machine cable could not be retrieved.
Upon excavation of the old lines, we saw that there were broken pipes and areas where roots would create more issues down the road along with sewer unexpected sewer clogs. This turned into an emergency due to an occupied commercial building and was finished in a timely fashion so there was only one day of downtime for the tenants.
Clay sewer pipes typically last anywhere from 50 to 60 years; after that many years, they start to deteriorate. Over time, the bottom of a horizontal pipe can disappear due to water flow through the pipe, exposing the soil below the pipe. As such, this results in soil erosion that creates voids below the drainage system that can lead to foundation settling of the structure above the piping system.
Clay sewer pipes are prone to root intrusion and leaks. Small tree roots enter loose clay plumbing joints, get bigger and break the clay away as time goes by. As such, this can lead to expensive sewer repairs. Additionally, as clay sewer pipes age, corrosion, calcification and scale build up.
NCT Plumbing has provided
repiping services for the Fort Worth region
and
other cities
such as North Richland Hills, Keller, Grapevine, Southlake, Arlington and Bedford are just a few.
The cost of sewer pipe repair projects can range in price; depending on your needs, your budget will help us approach your situation. NCT Plumbing will come to you to evaluate your specific needs and work towards a repair plan that best suits your situation and budget. We can also provide a video to you of the sewer pipe condition that will address any areas of concern.
Call
NCT Plumbing today
to book an appointment to get a sewer inspection by one of our plumbers and get your sewer line replaced if needed.