Does Your Fort Worth Home Need a Repipe?
October 11th 2019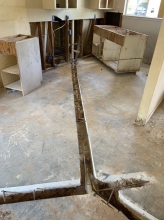 NCT Plumbing has been providing plumbing repair services for new construction, repairs and remodels in the Dallas-Fort Worth area in Texas since 1968, which means we've seen the professional plumbing industry evolve over many decades. During this time a lot has changed, including the materials available for residential and commercial drain piping.

Prior to 1970, nearly all plumbing used cast iron drain piping, which was designed to last up to 50 years and in some cases longer, depending on the level of care and maintenance. While cast iron was the mainstay before the advent of modern plumbing, it has proven to be problematic over time; leaks and other problems eventually occur, usually due to corrosion from the inside. This can be the first in a series of problems - from leaching, water contamination and health concerns, to all kinds of potential water damage to other parts of the building, if a serious leak or break happens.

Eventually all cast iron piping needs to be replaced. If your home was built some time ago, it would be a good idea to have your piping looked at to see what shape it's in. If it is plumbed with old cast iron piping, you may want to consider re-piping it to avoid future problems.
What is a Re-pipe?
Re-piping is the removal of old plumbing and replacement with new plumbing, often swapping the cast iron piping out for new PVC drain piping.

PVC pipefittings are weatherproof, rustproof, leak-free and long lasting. These fittings are easy to install, more cost-effective in the long run and require less maintenance than traditional cast iron piping, which is prone to rust blockages, leaching, leaking and cracking. PVC piping also reduces insurance costs and maintenance costs.
What is involved in repiping in Fort Worth?
NCT Plumbing recently completed a residential re-pipe in a Fort Worth, Texas home using PVC drain piping. The client's home was old and had cast iron fittings throughout. As a part of a large renovation to update the home, the homeowner decided to replace all of the old piping, which had developed cracks and begun leaking; there was leakage under the sink, in the bathroom walls and was also present under the slab.

NCT Plumbing replaced all of the cast iron pipes in the home from the city sewer line right up to each of the individual fixtures of the house. We did a complete replacement of all the cast iron piping and fittings with PVC, including coupling for cast iron to PVC fittings, where necessary, and provided new fixtures like water closets and washbasin fixtures wherever required. Our work is minimally invasive and does not disturb the structural integrity of the house.

Re-piping gives your whole home new life, in big- and little-picture ways. It's preventative maintenance for any structural element that could be damaged by leaks, but it also affects daily life. Let's face it: kitchen and bathroom tasks are always smoother when there's no grease build up or drain stoppages backing up your sinks. So if the pipes in your home need some love, let our team of Fort Worth plumbers have a look. When you choose us, we will serve you with the same skilled and insightful plumbing services we always do, always at a fair price. Contact us today!