My Sewer is Backing up and I Need a Plumber Fast!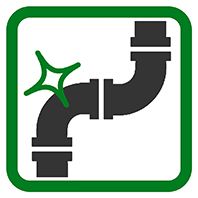 Clogged Toilets, Sinks, Tubs, Showers or Main Drain We Can Clear It!
We have been clearing sewer and drain clogs in the Fort Worth and Dallas Texas Metroplex for years. Our drain cleaning specialists have the equipment to get your drains running again in no time. Our drain cleaning services come with a complimentary video inspection that we can send digitally upon request for free! We also offer dedicated video inspection services for drainage systems which can come beneficial before you make a new home purchase.


Main Sewer Backing Up
Depending on the age of your home there could be many different reasons why it may be having draining issues. We can come out and get to the source of the issue by using our video equipment to come up with a plan of action for a permanent solution to your draining issues. Video inspection comes at no extra cost to you.


Toilet Keeps Getting Stopped Up
A lot of times homeowners may think their toilet flushes poorly and this is the reason for it causing drainage problems. We find quite often that the toilet flushes just fine but it's actually a blockage at the toilet flange or within just a few feet of the toilet flange downstream. We can us our video equipment to find out.


Shower Clogged or Tub Not Draining Well
This is normally a quick fix and is covered with minimum service cost to you. Most of the time its hair or hair products causing the issue.
Video Inspection
Our drain cleaning service come with free video inspection so you can rest assure when we leave your drains are clear. We provide this priceless service to get diagnose what is the source of your drain issues so we can suggest a permanent repair. This also helps us know we completely cleared your sewer system because we promise you only have to pay for a service once! We can also send you a digital copy of your sewer video inspection upon request.