Plumbing Projects & Tips
Grinder Pump Replacement in Fort Worth, Texas
November 30th 2018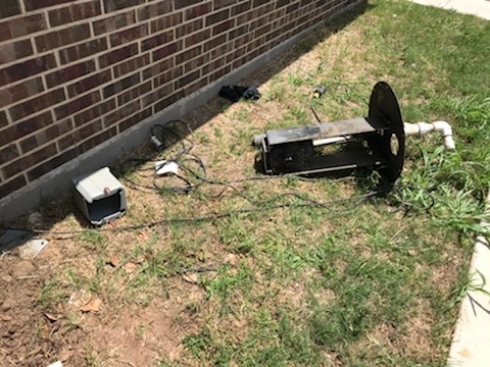 For over 50 years, NCT Plumbing has been providing dependable residential and commercial plumbing and repair services in the Dallas/Fort Worth area with honesty and integrity. We care about your plumbing needs and we offer prompt services at a fair price. Some of the work we do is not pretty, but "someone has to do it," states Scotty Kidd about a recent grinder pump replacement job done by NCT Plumbing with same day service for an emergency lift station in Fort Worth, Texas.
What and Where is a Grinder Pump?
Grinder pumps are found in holding tanks underground beside a building or in the basement, and they are designed to literally grind up any solid items not normally found in household wastewater before conveying the waste to a sewer system. After wastewater is piped from the house to the holding tank, a level sensor in or on the exterior of the tank will trigger the grinder pump to kick in.
If the device is malfunctioning, an alarm will alert homeowners that there is a problem with the system. These pumps are generally low maintenance and can last for several years. Malfunctions can lead to an overflowing holding tank, which can make the problem much more messy and can potentially contaminate well water.
Most commonly, the grinder pump is working on solid items that end up in wastewater via the toilet, and may include feminine hygiene products, bandages, and whatever else mistakenly takes that route! There are numerous lists online of items that are not to be flushed down the toilet, and each list includes items that are touted as flushable, such as disposable wipes!
People are also advised to not flush grease and cooking waste down the toilet or other household drains. Hot water may liquefy grease in the beginning, but as grease moves through the pipes, it regains its solid form and can lead to very extensive clogging of pipes. Grease buildup is actually one of the main culprits in a malfunctioning grinder pump. Grease can cause problems at every step along the way, from the household drain to the holding tank and grinder pump to effluent pipes and to the sewage system.
If you are a resident or business owner in the Dallas or Fort Worth, Texas area and you have plumbing repair needs or new construction, give NCT Plumbing a call for trustworthy and experienced service.
Below are some glamorous pictures of our recent same day service to replace a grinder pump