Residential and Commercial Water Heaters


In addition to our
new construction
and
repair plumbing services
, NCT Plumbing is a proud
Rheem
certified installer of tank water heaters and tankless water heaters in Fort Worth Texas. Being a preferred plumbing contractor to perform maintenance and provide repair services is something that has been earned over the past 50 years and something we accept the responsibility for. Whether your water heater tank starts leaking or your tankless water heater needs flushing we can handle it. The best thing to do is be proactive in replacing your water heater. We can come out to your home or business to inspect your current water heater condition and get a game plan to help you budget repairs or replacements for the future.
Our water heater replacement costs are turnkey with no surprises attached to them. When you see other cheap prices out there be sure it's a turnkey installation. We don't just offer a water heater that works best for us but rather what is best for you and your budget. We give our customers pricing options based on the warranty of the water heater. You have the power to choose what your warranty you want based on your budget!
Our turnkey water heater replacements included all the necessary parts to properly install your new water heater. We do not advertise a cheap get in the door price and then add extras that you need in the first place for a proper installation.
If your hot water tank is fine, but you want a Rheem
water heater booster
installed on the existing heater, we can do that as well.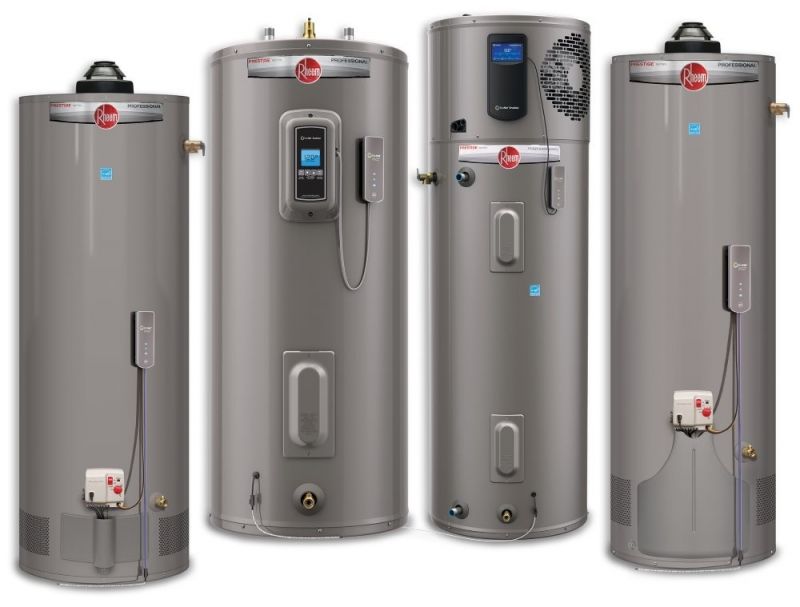 Turnkey water heater replacement includes:
New Water Heater

Standard Warranty with Options to Upgrade
New Supply Connections
Haul Away Old Water Heater
Permit and City Inspection
There is at times a code requirement that needs to be confirmed but all you need to do is take a photo of your current water heater and send it to us using the email link below. We will verify and confirm an upfront estimate so you can be sure there are no surprises!
With the combination of having a Club Membership and being proactive you can pay for your water heater replacement in advance with monthly installments. We will give you an upfront estimate that will be locked in and once you meet the total estimate with your payments we can schedule to have your water heater replaced when it's convenient for you!

Email us to get an estimate!